Qualified team offering windscreen repair mobile service on the South Coast
When you suffer damage to your windscreen, the last thing you want to do is drive all the way into Bournemouth to get the damage assessed.  That's why Top Mark Windscreens offer a windscreen repair mobile service where we come to you, around the area, and assess the damage wherever you are.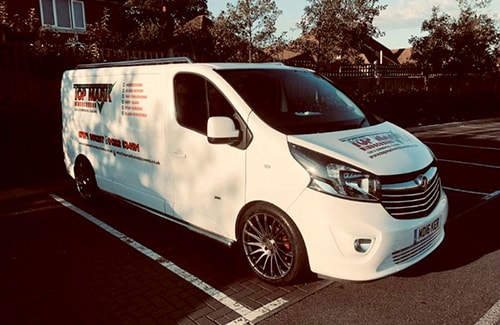 About Us
Mobile windscreen repairs
Repair or replacement on-site
Replace damaged side and rear windows
Commercial vehicles covered
Van conversion services available
Complete replacement service
There are lots of cases where a simple chip can be repaired, and this is part of the service we offer.  We use high-quality products to repair the windscreen and ensure it is as strong as before the damage. 
But there are also situations where the repair isn't possible, and a replacement windscreen is needed.  It might be due to the amount of damage – such as a big, structural crack that means the windscreen could shatter at any time.  Or it may be a smaller crack but straight in the middle of the driver's viewing area which means it needs to be handled quickly, especially before your MOT comes around as this can be a fail point.
All glass replaced
As well as the windscreen of your car or van, we also offer replacement for any of the glass in the vehicle.  This might be the rear screen, the side windows or even the windows in your van for commercial customers.  Most times, these will need replacing not repairing and we can carry the work out at your home or workplace.
For owners of vans, we can also add windows to your vehicle with our van conversion service.  Maybe you want to make a van into an MPV or simply add a sliding rear window to allow easy access.  We can offer free quotes for all conversion jobs to get the extra windows you desire.
QUESTIONS?
Top Mark Windscreens has an excellent reputation across Bournemouth for a friendly, reliable and fast service. If you need a windscreen replaced or a crack repaired, our team will come to you. For a free estimate or to arrange a call out with no fee, call us on 07971 956 297 or 01202 534 191, email info@topmarkwindscreens.co.uk, or click the button below.