Experts in van conversions on the South Coast
One of the biggest problems with many models of van is that they are a little lacking in windows.  And while it might be okay for some uses, other times it would be helpful or more pleasant to have more light into the vehicle.  So if you are considering van conversions south coast, Bournemouth has Top Mark Windscreens and we offer a full van conversion service.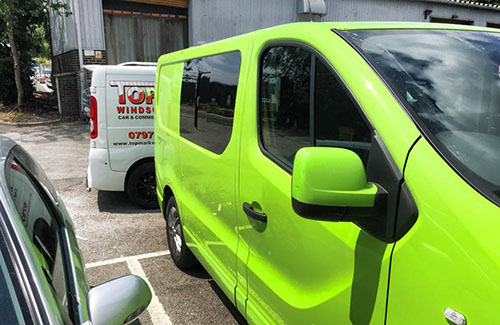 Our Services
Van conversion service
Add a range of new windows
Selection of tints available
Bonded and rubber mounted
All makes and models converted
Converted vans
There are lots of reasons that people choose to have van conversions and add more windows into their vehicle.  Maybe they have a van and want to make it more like an MPV by allowing more light in.  Or maybe it is a smaller vehicle but the lack of light in the rear section is a pain. 
Whatever the reason, we can complete a high-quality conversion with windows that are bonded and rubber mounted fitting. You can even choose sliding window units depending on your requirements.
Free quotes
We can work on all makes and models of vehicles to assess the best way to convert it, and then give you a quote for the job. Once you are happy, we can then get the work done.  We have a range of tints available for the windows so you can select these, and we will apply them as we work.
All of the quotes we offer are free and there's no obligation.  We can assess the vehicle and the ideas you have to make sure the project is manageable while retaining the structural security of the vehicle.  We can also look at upgrading other windows already in the vehicle such as rear or side windows if they are showing signs of age or damage.
QUESTIONS?
Top Mark Windscreens has an excellent reputation across Bournemouth for a friendly, reliable and fast service. If you need a windscreen replaced or a crack repaired, our team will come to you. For a free estimate or to arrange a call out with no fee, call us on 07971 956 297 or 01202 534 191, email info@topmarkwindscreens.co.uk, or click the button below.