Specialists in mobile windscreen repairs in Bournemouth
One thing about windscreens is that they often break at the most inconvenient moment – and the worst possible place! That's where mobile windscreen repairs in Bournemouth come in. Top Mark Windscreens can visit you wherever you are around the area and replace your broken windscreen.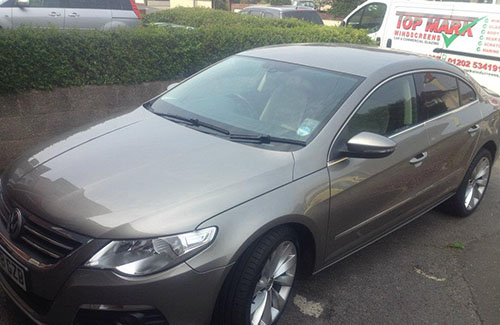 Our Services
Mobile windscreen repair
Fix the windscreen wherever you are
No concerns about driving with a damaged windscreen
Chips fixed where possible
Full replacement if no repair
Do you need a replacement?
When there's damage to your windscreen, we always assess to see if we can repair first.  A lot depends on where the chip or crack is, how big it is and if it is a danger to the structure of the whole windscreen.  So if it is in front of your line of sight when you are driving, this might mean a replacement – because it is a fail on your MOT when it is due.
But if the chip is away over the far side of the passenger side of the windscreen, then it might be possible to repair it.  If it is a star chip with points coming out from the centre, then there's a good chance.  Other, larger cracks can affect the integrity of the windscreen and might mean it could shatter as you drive.
Simple mobile replacement
The good news is that the replacement of the windscreen is a simple and easy process.  We can come to you at home or at work and offer a competitive price on the cost of replacing the windscreen.  We can carry out the work at the roadside and quickly get you back on the road. 
And if the damage is to other windows in the car like the back windscreen or side windows, we offer the same service for those.  We repair where we can and replace when necessary to keep your car and you safe.
QUESTIONS?
Top Mark Windscreens has an excellent reputation across Bournemouth for a friendly, reliable and fast service. If you need a windscreen replaced or a crack repaired, our team will come to you. For a free estimate or to arrange a call out with no fee, call us on 07971 956 297 or 01202 534 191, email info@topmarkwindscreens.co.uk, or click the button below.