Rear windscreen repairs for your vehicle
Rear windscreens are treated a lot like front windscreens although it is usually the case that they have to be replaced rather than repaired.  They are still a crucial part of your car's protection and security as well as your vision area as a driver.  So if you need someone to fix rear screens and you are in the Bournemouth area, then Top Mark Windscreens are the regional specialist.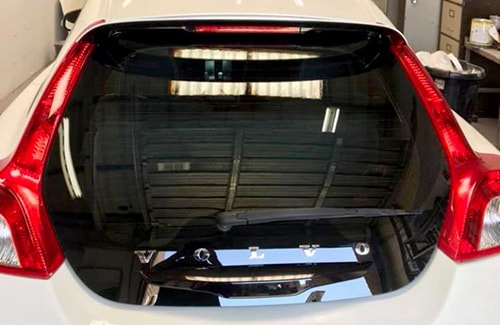 Our Services
Replace rear windows
Install a new rear screen quickly
Mobile service to come to where you are
Top quality parts used
Trained and certified technicians
Damaged rear screen
Rear screens are less prone to being damaged or cracked than front windscreens, but it doesn't mean that it can't happen.  Debris from a passing vehicle, a malicious act or simply a slight weakness that the weather exploits, these are all common reasons for needing someone to fix rear screens.
That's also why we offer a mobile service.  If you have damage to your rear screen, the car may not be safe to drive – or it may be difficult as the rear view is obscured.  We don't want you to risk it and therefore we can come to you to make the replacement.
All car glass replaced
As well as rear screens, we can also repair and replace front windscreens and also replace side windows and other car glass.  Glass plays an important part in the safety and security of your car so any damage to it should be dealt with quickly – and damage to the driver's view area of the front windscreen can even be an MOT fail.  So it is important to get someone to look at the problem as quickly as possible.
We have NVQ certified fitters and are members of trade organisation such as IMI to show the quality of the work we do – and all quotes are free and no obligation.
QUESTIONS?
Top Mark Windscreens has an excellent reputation across Bournemouth for a friendly, reliable and fast service. If you need a windscreen replaced or a crack repaired, our team will come to you. For a free estimate or to arrange a call out with no fee, call us on 07971 956 297 or 01202 534 191, email info@topmarkwindscreens.co.uk, or click the button below.